IPL 2023 Lucknow Super Giants The Indian Premier League (IPL) is one of the biggest cricketing events in the world, and the LSG 2023 are one of the most promising teams in the league. With IPL 2023 just around the corner, the team has launched a new jersey that is sure to turn heads. In this article, we'll take a closer look at the new jersey and what it means for the team's prospects in the upcoming season.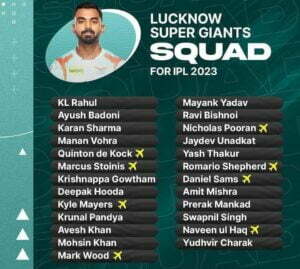 We used our 'Chit' code today 😜#LSGBrigade | #LucknowSuperGiants | #LSG pic.twitter.com/JTaWEzkVle

— Lucknow Super Giants (@LucknowIPL) March 7, 2023
What It Means for the Team Lucknow Super Giants:
The launch of the new jersey is a significant moment for the LSG 2023. The team has been steadily improving over the past few seasons, and the new jersey is a symbol of their rise to prominence in the league. It also shows that the team is committed to creating a unique identity for itself, both on and off the field.
Also Check : IPL 2023: The Cost of Owning a Franchise
Don't forget to support us by following us on Google News or Returning to the home page TopicsTalk
Join Telegram and WhatsApp for More updates
Follow us on social media