IPL 2023 The Indian Premier League is an opportunity for young cricketing talents to showcase their skills and make a name for themselves. The 2023 edition of IPL is no different. In this season, we can expect to see some of the youngest players in action across all ten teams. Here are the top five youngest players to look out for in IPL 2023.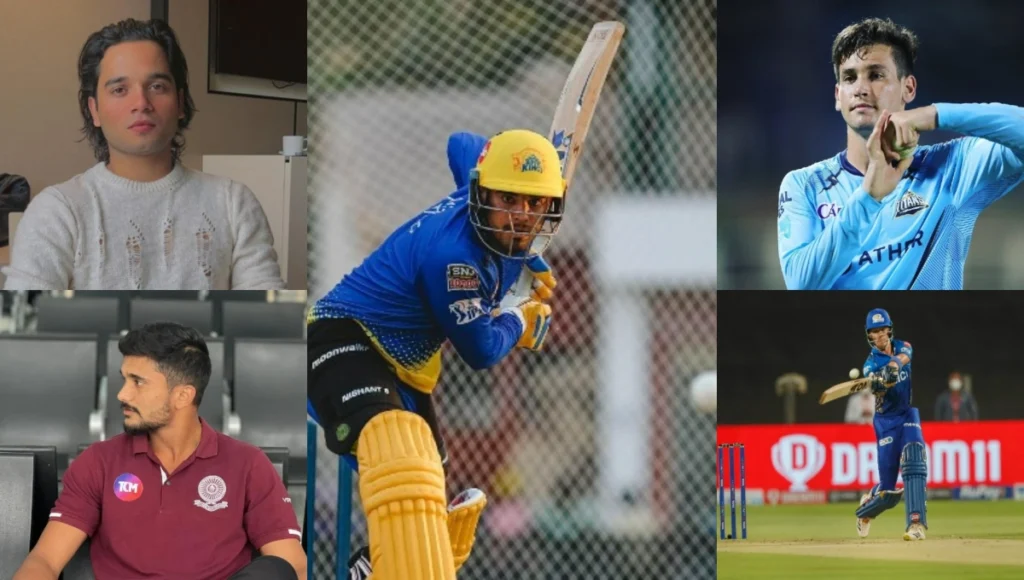 Dewald Brevis (Mumbai Indians) – Age: 19 years 336 days
Dewald Brevis, also known as "Baby AB," is a destructive batter who played for Mumbai Indians in the previous season. Despite MI's poor performance, Brevis impressed with his batting skills, scoring 161 runs in just seven innings with a magnificent strike rate of 142. He will be looking for more opportunities to showcase his skills and play a bigger role in MI's performance this year.
The Indian Premier League (IPL) has always been a platform for young cricketers to showcase their talent and earn a name for themselves in the cricketing world. With the upcoming IPL 2023, many young players are gearing up to make their mark in the tournament. In this article, we will take a look at the top five youngest players who will be part of this season's IPL and are expected to leave a lasting impression with their performances.
Suyash Sharma (Kolkata Knight Riders) – Age: 19 years 320 days
Suyash Sharma, a mystery spinner from Delhi, was purchased by Kolkata Knight Riders in the auction. This will be his debut season in the IPL, and KKR was thrilled to get him at his base price. Sharma mainly bowls leg-break and will be a valuable addition to KKR's bowling attack, joining the likes of Sunil Narine and Varun Chakravarthy.
Nitish Kumar Reddy (Sunrisers Hyderabad) – Age: 19 years 309 days
Nitish Kumar Reddy, from Andhra Pradesh, will be the youngest member of Sunrisers Hyderabad's team in the IPL 2023. Reddy, who was part of Chennai Super Kings' net bowling team in the past, was roped in by SRH for INR 20 lakh. He has already made his mark in the Ranji Trophy this season, picking up 25 wickets.
Nishant Sindhu (Chennai Super Kings) – Age: 18 years 356 days
Nishant Sindhu, one of the two players who will still be 18 years old when the IPL starts this season, is part of the Chennai Super Kings team. Sindhu was part of India's U19 World Cup-winning team in 2022 and was bought by CSK for INR 60 lakh. He is a stylish batter who plays for Haryana and has already scored consecutive hundreds in the Ranji Trophy this season. He will get the best mentor in MS Dhoni and the chance to share the dressing room with some of the game's stalwarts.
Noor Ahmad (Gujarat Titans) – Age: 18 years 87 days
Noor Ahmad, an Afghanistan teenager and left-arm wrist spinner, is the youngest player among all the squads in IPL 2023. He made his international debut in 2022 and has already played in several T20 leagues worldwide. Ahmad is regarded as one of the most promising prospects in Afghan cricket and will be playing alongside his national teammate Rashid Khan for Gujarat Titans.
Also read IPL 2023: The Battle of the Titans – Featuring the Oldest Players
Conclusion
The Indian Premier League is a platform that has provided opportunities to young cricketing talents. IPL 2023 will see many such players in action, including the five youngest players we have mentioned. These players have the potential to become the future of Indian cricket, and we hope to see them perform to the best of their abilities in the upcoming season.
Don't forget to support us by following us on Google News or Returning to the home page TopicsTalk
Join Telegram and WhatsApp for More updates
Follow us on social media