Today's Google Doodle celebrates the 77th birth anniversary of Kitty O'Neil, an American stuntwoman and racer who was deaf since childhood.
O'Neil was an extraordinary woman who shattered stereotypes and broke barriers in both motorsports and Hollywood, leaving an enduring impression on the world.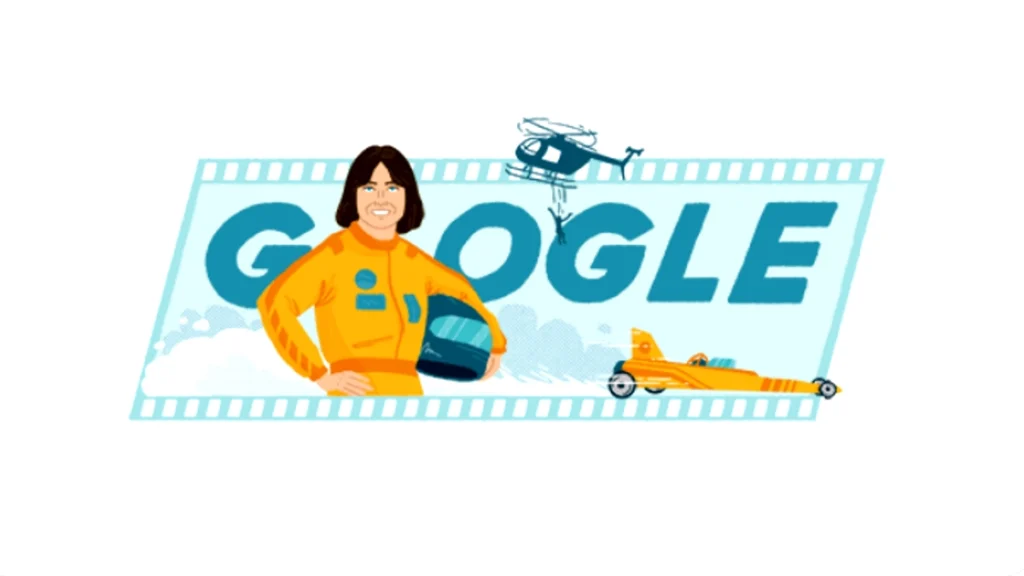 Kitty O'Neil
O'Neil came into this world on March 24, 1946, in Corpus Christi, Texas. Her mother was a Cherokee Native American, and her father was of Irish descent.
Unfortunately, she contracted several illnesses when she was just a few months old, which resulted in a high fever that caused her to become deaf.
Despite this, O'Neil adapted to various communication methods and learned to communicate effectively with different audiences. As she grew older, she became more comfortable with speaking and lip-reading as her preferred forms of communication.
Despite her deafness, O'Neil never viewed it as a hindrance and even considered it an advantage. Her passion for sports led her to discover diving, but her chances of competing were cut short due to a wrist injury and illness.
Nonetheless, she remained determined to pursue her dream of becoming a professional athlete.
O'Neil started exploring other high-speed sports, such as water skiing and motorcycle racing. She had a fearless attitude and loved performing risky stunts, including jumping from helicopters and falling from great heights while on fire.
During the late 1970s, O'Neil landed an opportunity to work in the film industry as a stunt double. She worked on popular TV shows and movies such as The Bionic Woman (1976), Wonder Woman (1977-1979), and The Blues Brothers (1980).
Her skills as a stunt performer earned her a place in Stunts Unlimited, an exclusive organization for the best stunt professionals in Hollywood. She was the first woman to ever become a member of the organization.
In 1976, O'Neil achieved the title of "the fastest woman alive" when she set a new land speed record of 512.76 miles per hour while racing across the Alvord Desert in a rocket-powered vehicle known as the SMI Motivator. She surpassed the previous women's land speed record by about 200 mph. Her record still stands today.
O'Neil also wanted to break the overall land speed record held by a man at that time, but her sponsors would not allow her to do so because they wanted to preserve the status quo.
O'Neil made an attempt to fight against sexism through legal means but unfortunately, she was unsuccessful in her efforts. Due to this, she never had the opportunity to compete for the overall land speed record.
A biopic about O'Neil's life, titled Silent Victory: The Kitty O'Neil Story, was released in 1979 and recaps her impressive Alvord Desert feat. Stockard Channing played O'Neil in the film while O'Neil herself handled some of the stunts.
O'Neil married Duffy Hambleton, another stuntman whom she met on The Bionic Woman set. They later divorced but remained friends until his death in 1999.
O'Neil retired from stunt work in 1982 and moved to Eureka, South Dakota where she lived on a ranch with her mother until her mother's death in 2015. She also pursued other hobbies such as painting and sculpting.
O'Neil died of pneumonia on November 2nd ,2018 at age 72 . She received an Oscars In Memoriam award in 2019 for her contributions to film industry.
Kitty O'Neil was an inspiration and a trailblazer who set an example for generations to come, showing that with determination and hard work, anything is achievable. Her Google Doodle serves as a reminder of her remarkable accomplishments and the enduring impact she had on the world.
Key Notes to take
Family: Kitty O'Neil was an American stuntwoman and racer who was deaf since childhood and held the women's absolute land speed record until 2019 .
Cause of death: She died of pneumonia at age 72 in Eureka, South Dakota, USA on November 2, 2018 .
Husband: She was married twice, first to Jim O'Neil, a water skier whom she divorced in 1971, and second to Duffy Hambleton, a stuntman whom she divorced in 1980.
Became deaf: She became deaf at five months of age due to a high fever caused by multiple diseases. She learned lip-reading and speech from her mother who was a speech therapist.
Net worth: At the time of her death, Kitty O'Neil's net worth was estimated to be around $5 million.
Actress: She worked as a stunt double for several actresses such as Lindsay Wagner, Lynda Carter and Stockard Channing. She also performed stunts for movies like The Blues Brothers and Smokey and the Bandit II.
Children: She had no children of her own but was close to her niece Valerie O'Neil who also became a stuntwoman.
Height: She was 5 feet 2 inches tall and weighed about 97 pounds.
Her mother taught her various skills such as horseback riding, gymnastics, diving and swimming but not how to cook or sew.
Also Read About 
Don't forget to support us by following us on Google News or Returning to the home page TopicsTalk
Join Telegram for More updates
Follow us on social media